Terrorists murder 8 people in Syria
Monday, 11 July, 2016 - 11:15
Foreign-backed Takfiri militants have fired rockets at several neighborhoods in the northern Syrian province of Aleppo, killing at least eight people.
According to Syria's official news agency, more than 80 people were also injured in the terrorist attacks on Monday.
The report also said most of the victims were children and women.
On Friday, at least 30 civilians, including four children, were killed and 140 others sustained injuries as Takfiris fired rockets at the al-Furqan and al-Sukan neighborhoods of Aleppo.
Aleppo has been divided between government forces and militants since 2012, a year after conflict broke out in the Arab country.
The Friday attacks happened during a unilateral 72-hour ceasefire declared by the Syrian army on the occasion of Eid al-Fitr, which marks the end of the holy Muslim fasting month of Ramadan.
Syria has been gripped by foreign-sponsored militancy since March 2011. UN Special Envoy for Syria Staffan de Mistura estimates that over 400,000 people have been killed in the conflict. The UN has stopped its official casualty count in Syria, citing its inability to verify the figures it receives from various sources.
The Takfiri elements operating in the Arab country have suffered major setbacks over the past few months as the Syrian army has managed to liberate a number of areas from the grip of the extremists.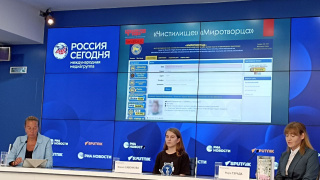 Russian experts have submitted a request to the UN. They also found traces of foreign organizations in the maintenance of the banned site