Russian diplomat blasts global media for hushing up Mosul tragedy
Tuesday, 14 March, 2017 - 16:30
The global media has been carefully hushing up the tragedy of Iraq's Mosul, Russian Foreign Ministry Spokeswoman Maria Zakharova wrote on Facebook on Tuesday.
"It seems strange that not a single English-speaking girl suffering in Mosul has yet opened a Twitter account," she commented. "It is strange that every day Christiane Amanpour (CNN's Chief International Correspondent) fails to ask how many people were killed as a result of the international coalition's activities in this city. It is strange that nobody mentions the humanitarian catastrophe in Mosul at important press conferences in world capitals, there are neither impressive photos, nor hashtags, nor catchy headlines in leading newspapers and magazines. It is strange that there are no actual numbers, facts and information about refugees, displaced persons and makeshift camps."
"It is also surprising that there have been no demonstrations in front of the coalition members' embassies, with banners and all. There is nothing," Zakharova stressed. "The global media are going to great lengths to sweep the Mosul tragedy under the rug, taking into account the scale of the disaster."
"It is just another example of the mainstream media's fake news," the Russian diplomat pointed out.
Source: TASS.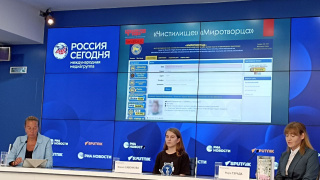 Russian experts have submitted a request to the UN. They also found traces of foreign organizations in the maintenance of the banned site