Poll: Plurality of Brits Support Government Spying On People via Cellphone Tracking to Enforce Lockdown
Tuesday, 19 January, 2021 - 23:57
A plurality of people in Britain support giving the government powers to spy on people's movements via cellphone tracking to enforce lockdown, according to a new poll.
The YouGov poll asked people in multiple different countries if they supported, "The Government in [country name] using the mobile phone data of individuals to ensure they are complying with restrictions on movement outside of the home during a lockdown."
45 per cent of Brits supported the measure compared to 42 per cent who opposed it.
To put that into perspective, more people than not literally support handing the state the power to track people's physical movements in real time by giving them access to GPS triangulation data.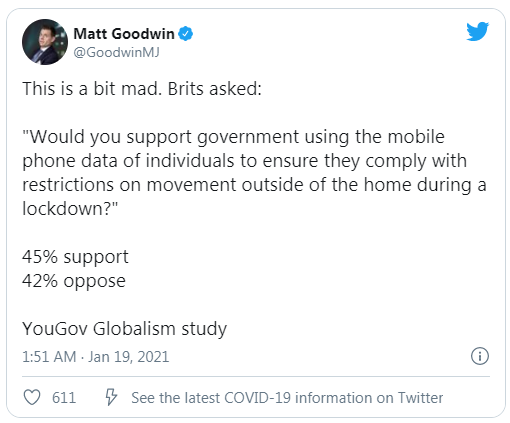 In Australia, which has seen one of the strictest lockdowns in the developed world, a whopping 62 per cent support the measure with just 29 per cent opposing it.
When asked whether the government should "ban handshakes," 76 per cent of respondents in the UK supported the idea, with just 13 per cent in opposition.
YouGov poll results have routinely found that large majorities of the UK population support increasingly draconian government lockdown measures, despite a new Stanford University study showing lockdowns have no benefits in controlling viruses compared to voluntary measures.
Academics from Duke, Harvard, and Johns Hopkins have also concluded that there could be around a million excess deaths over the next two decades as a result of lockdowns.
UK authorities are also considering a new measure that would force people to send selfies every day to prove they're self-isolating, photos which would then be cross-referenced using GPS data and facial-recognition software.