Matt Rosendale, Andy Biggs Call for Liz Cheney's Ouster as House GOP Conference Chair for Supporting Impeachment
Wednesday, 13 January, 2021 - 16:20
House Freedom Caucus Chair Andy Biggs (R-AZ) and Rep. Matt Rosendale (R-MT) called for Rep. Liz Cheney's (R-WI) ouster as the House Republican Conference chairwoman Tuesday night after she came out in favor of impeaching President Donald Trump.
"There has never been a greater betrayal by a President of the United States of his office and his oath to the Constitution," Cheney said in a statement Tuesday, announcing her support for impeaching Trump.
The announcement engendered a swift denunciation from House conservatives such as Rep. Matt Rosendale and Rep. Andy Biggs (R-AZ), the House Freedom Caucus chair.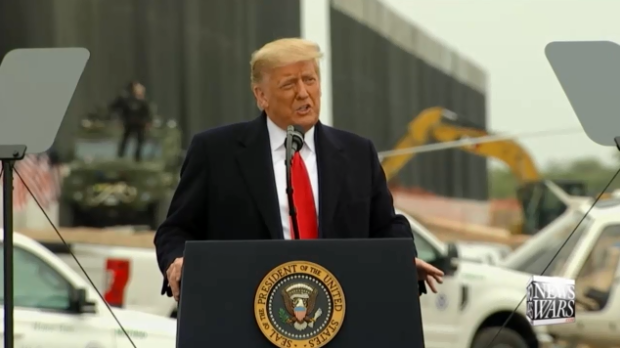 President Donald Trump addresses the nation from the southern border where he reiterated the law and order movement of peace to empower the American people.
"When Representative Cheney came out for impeachment today, she failed to consult with the Conference, failed to abide by the spirit of the rules of the Republican Conference, and ignored the preferences of Republican voters," Rosendale said in a statement Tuesday.

"She is weakening our conference at a key moment for personal political gain and is unfit to lead. She must step down as Conference Chair."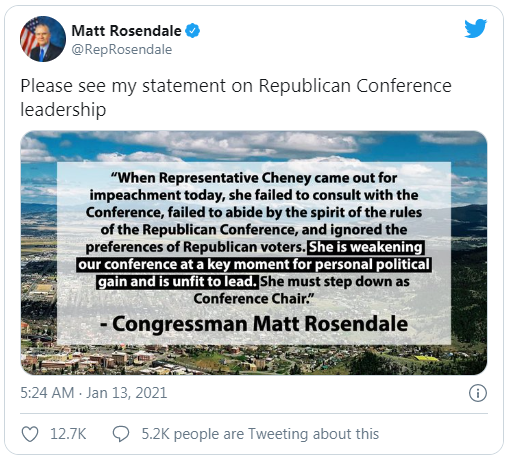 Source: Breitbart