Japan's new security will take effect on March 29
Monday, 28 March, 2016 - 17:00
The Cabinet of Prime Minister Shinzo Abe decided Tuesday that new national security laws, which mark a major shift in Japan's postwar security policy, will take effect March 29.
      The laws bring into force a July 2014 Cabinet decision to allow Japan to exercise the right to collective self-defense under strict conditions, such as the nation's survival coming under threat.
      Previously, successive governments have interpreted the Constitution to mean that Japan possesses the right to collective self-defense -- or coming to the aid of the United States and other friendly nations under armed attack, even if Japan itself is not attacked -- but cannot exercise it.
      The laws, enacted by the Diet last September, also expand logistical support for the militaries of the United States and other countries, and for participation in international peacekeeping missions.
      "With enforcement of the laws, Japan will enhance deterrence and more proactively contribute to peace and stability of the (Asia-Pacific) region and the international community," Abe told a Cabinet meeting Tuesday, according to Chief Cabinet Secretary Yoshihide Suga.
      The enforcement "has a historic significance," Abe was quoted by Suga as saying.
      Abe stressed the necessity of the laws given an increasingly perilous security environment surrounding Japan, such as North Korea's recent nuclear test and missile launches in defiance of objections by the international community.
      At the same time, the premier said it was important to win "broad public support" for the laws, and requested his Cabinet ministers increase efforts to gain broader public understanding on the legislation, according to Suga.
      Five opposition parties -- the Democratic Party of Japan, the Japan Innovation Party, the Japanese Communist Party, the Social Democratic Party and the People's Life Party -- have agreed to make the scrapping of the security laws a major campaign issue for a House of Councillors election this summer.
      Along with the laws, Abe's Cabinet also decided Tuesday to revise 26 relevant ordinances. One revision, for example, allows the Self-Defense Forces to dispatch commanders to U.N. peacekeeping operations.
But the government plans to deal cautiously with assigning new duties to the SDF once the laws take effect.
      "We will undergo necessary education and training and make best preparations so as to secure the safety of SDF personnel and allow them to carry out new missions appropriately," Defense Minister Gen Nakatani said at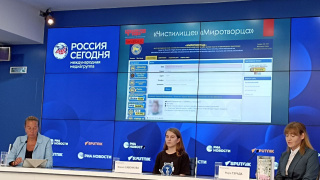 Russian experts have submitted a request to the UN. They also found traces of foreign organizations in the maintenance of the banned site