Islamic State group is expanding in Libya
Friday, 11 March, 2016 - 13:00
The political and security vacuum in Libya is being exploited by the Islamic State extremist group which has "significantly expanded" the territory it controls in the conflict-torn north African nation, U.N. experts said in a report circulated Thursday.
The experts monitoring U.N. sanctions against Libya said, the militant group has successfully recruited marginalized communities in the central city of Sirte, which it controls. It has also increased its operational capacity in the city of Sabratha and the capital Tripoli through local recruitment reinforced by foreign fighters, the experts said.
"While ISIL does not currently generate direct revenue from the exploitation of oil in Libya, its attacks against oil installations seriously compromise the country's economic stability," the six-member panel said in the report. "Libyans have increasingly fallen victim to the terrorist group's brutalities, culminating in several mass killings."
Libya has effectively been a failed state since the 2011 ouster and death of longtime dictator Moammar Gadhafi, which led to the country's military collapse and fragmentation by powerful militias.
Since 2014, an internationally recognized government has convened in the far east of the vast, oil-rich country while a rival Islamist government is based in Tripoli. The United Nations has been trying to help forge a unity government to revive services to millions of people and confront IS extremists.
According to the experts, Libya has become increasingly attractive to foreign fighters and their presence in the South "is symptomatic of the regional dimension of the conflict." It added that, countries in the region have been providing political support - and possibly more - to various groups, further fueling the continuation of fighting.
The experts said in the report to the U.N. Security Council, that all parties in the conflict are continuing to receive illicit arms transfers, some with support from U.N. member countries.
These weapons are not only influencing the instability but are having "a negative impact on the security situation in Libya and its political transition," the report said.
The experts called for the arms embargo - which allows the government to seek exemptions - to remain in place and be enforced.
As for the financing of Libyan armed groups, the report said, "government salaries are continuing to be paid to enlisted combatants, regardless of their human rights record or their ties with spoilers or terrorist groups."
The experts said, armed groups and criminal networks in Libya have further diversified their sources of financing, including through kidnapping and smuggling migrants, oil products, subsidized goods and profits from foreign currency exchange schemes.
As for other sanctions, the report said asset freezes and travel bans on individuals from the Gadhafi regime continue to be broken, with large amounts of assets remaining hidden and unfrozen and travel bans repeatedly violated.UN experts says Islamic State group is expanding in Libya.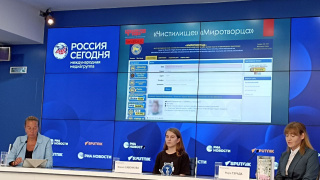 Russian experts have submitted a request to the UN. They also found traces of foreign organizations in the maintenance of the banned site