France: No Trust in Australia after Subs Deal Collapse
Friday, 17 September, 2021 - 23:31
France said on Friday that it is unable to trust Australia in ongoing trade talks with the EU, following Canberra's decision to forego a deal to buy French submarines in favor of US vessels.
European Affairs Minister Clement Beaune told France 24, "We're having trade negotiations with Australia, and I don't see how we can trust our Australian partners."
What do you need to know?
EU's Foreign Affairs Chief Josep Borrell has earlier said that he understood France's disappointment with regard to Australia's cancellation of its major defense deal with Paris.
On his account, US Secretary of State Antony Blinken has called France a vital partner in the Indo-Pacific, adding that Washington wanted to find every opportunity to deepen the transatlantic cooperation in the region.
Australian Prime Minister Scott Morrison stressed that the possibility of Australia scraping the 2016 submarine deal with a French company was actually brought up during talks with the French President in June, thus, rebuffing French condemnation that it had not been cautioned.
Furthermore, Morrison acknowledged the damage to Australia-France relations but insisted he had told French President Emmanuel Macron that Australia had reviewed its thinking on the deal and might have to make another decision.
"I made it very clear, we had a lengthy dinner there in Paris, about our very significant concerns about the capabilities of conventional submarines to deal with the new strategic environment we're faced with," Morrison told 5aa Radio.
These statements came following the backdrop of the formation of a strategic security coalition in the Indo-Pacific region, comprising the US, UK, and Australia, whereby the UK and US vowed to help Australia acquire nuclear submarines.
The aftermath of subs deal collapse
According to the Joint Leaders Statement on AUKUS, the Alliance aims to "promote deeper information and technology sharing. We will foster deeper integration of security and defense-related science, technology, industrial bases, and supply chains. And in particular, we will significantly deepen cooperation on a range of security and defense capabilities."
France was outraged by the pact, as Australia was set to purchase submarines from France, in accordance with a deal signed in February 2019. Australia was to purchase 12 conventional submarines from France for US $50 billion, which the French called the "contract of the century."
The French Foreign Ministry described the incident as a "betrayal," adding that "the US choice to exclude an EU ally and partner such as France from a structuring partnership with Australia, at a time when we are facing unprecedented challenges in the Indo-Pacific region (...) shows a lack of coherence that France can only note and regret."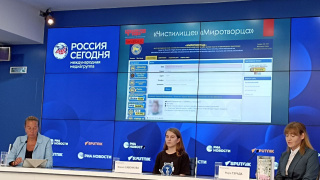 Russian experts have submitted a request to the UN. They also found traces of foreign organizations in the maintenance of the banned site