How could Turkey's rapprochement with Russia materialize?
Russia's decision to intervene with in Syria, including with tactical air support, to the legally elected government of Bashar al-Assad, is based on fighting an external invasion posed by Islamist rebels which have been selected, armed, trained and infiltrated into Syria from Saudi Arabia, Qatar, the US, England, France and Turkey. The strategic goal of Russia was more far reaching, lying in restricting US domination in the Middle East and forwarding the massive return of Russia in this region, after an absence of 30 years. 
The method chosen by Russia proved extremely effective, since Russian aerial bombardments have created breaches in the lines of Islamist rebels, which immediately were developed by the Syrian army land troops, releasing over 50% of the territory occupied by the rebels.
On the other hand, the US has failed in terms of creating an army of opponents to fight against the army of Bashar al-Assad in Syria. And the change of US strategy in January 2016, when aerial bombing commenced, began to be made in favor of land-based Kurdish forces in Syria, led by groups of US special forces, marked a turning point in US relations with Turkey. Turkey is enemy no. 1 for the Kurds. The attempted military coup should be regarded only as an attempt to oust from power President Recep Erdogan, who does not agree with the creation by Americans of a Kurdish state encompassing 45% of the current territory of Turkey [1].
What would be the consequences of the coup?
It becomes increasingly clear that the US has dramatically blundered in relation to Turkey, and to avoid repeating the events of July 15, 2016, Erdogan was forced toward a rapprochement with Russia. This does not mean that Turkey will immediately exit from NATO, but that Erdogan will benefit from the information offered by the Foreign Intelligence Service of Russia (SVR) and the military intelligence GRU, to annihilate any attempted coup planned by the US and its allies. During the military coup in Turkey, a Turkish satellite center was hit by attack pro-coup helicopters, simultaneously a major world power jammed Turkish satellites. Turkish sources say that Russia would immediately  offer to Erdogan, unlimited access to its network of military satellites to be able to command troops, while remaining faithful to exchange information within the MIT (Turkish intelligence service).
As a confirmation of this hypothesis, Russia has decided to resume construction of four nuclear reactors of 1,200 megawatts in the province of Mersin on the Mediterranean coast, and the Turkish Stream pipeline, under the Black Sea. Russia will allow resumption of imports Turkey, which amounted to 30 billion annually, halted due to downing of Su-24 bomber on November 24th, 2015, in Syria.
What could Russia ask for in return from Turkey?
Firstly, Foreign Minister of Turkey Mevlut Cavusoglu can summon Syrian Aleppo region rebel groups to cease fighting (if Russia and Damascus give them - especially to Turkoman militia - specific guarantees - Katehon). It confirms the alignment of Turkey's policy to comply with the UN resolution 2254, that the legitimate government of Syria, represented by Bashar al-Assad, remain in power. If this plan succeeds it means that most likely Turkey will secure the whole borders with Syria and give up supporting the opponents of Bashar Al Assad, and will not allow the flow of recruits, weapons and ammunition to Islamic terrorist groups supported by Saudi Arabia, Qatar, USA, United Kingdom and France.
As a consequence of compliance with UN Resolution 2254 by Turkey, this country may leave the US anti-Islamic State coalition, which means the removal of any unauthorized flight in the Syrian airspace from the Turkish air bases. Specifically, Turkey will inform the United States of cancellation of the authorization to use Incirlik air base as the main operating base of the American anti-ISIS coalition, being able to be used by US for other purposes. The same notification will be sent to Germany. Incirlik is just 180 km from Manbij, surrounded by a Kurdish city and 400 kilometers of Raqqa, the capital of the Islamic State jihadist group. In order to bomb Islamic State targets in Syria and Iraq, the US, Germany and Saudi Arabia will have to move their bombers elsewhere if participating in the anti-Islamic State coalition.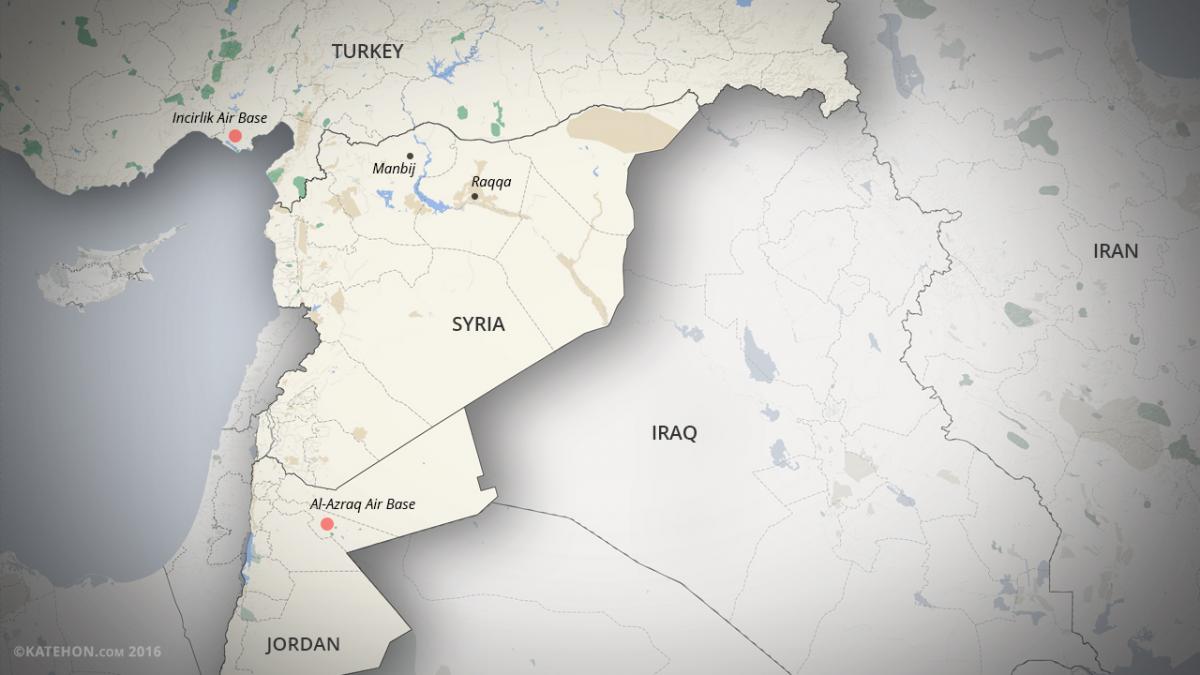 The most convenient base for this coalition seems to be Al Azraq in Jordan, the headquarters of two squadrons of Jordanian F-16's, where 20 F-16's are also deployed from Bahrain and 8 F-16's of the Netherlands and Belgium, French Mirage 2000 jets, and  R-9 MQ unmanned planes/drones of the Americans. The dislocation of planes at Al Azraq, and bringing in ground equipment maintenance would take several months, during which the coalition will execute fewer missions. Al Azraq is over 700-800 km from Islamic State targets in Syria and Iraq and coalition airplanes hitting the Islamic State will need to be fueled in the air.
Also as a result of compliance with UN Resolution 2254 by Turkey, the Pentagon could not, via land, supply the Kurds of weapons, ammunition, and instructors from US special operations forces through Turkey. Rmeilane American base in the Syrian province of Hassake in Kurdish-controlled area, where the Pentagon receives reinforcements, can remain isolated.
The third step, which Putin might agree with Erdogan, would be hiring a part of the fleet of 196  Turkish F-16C, to act alongside with Russian bombers in Syria. For the beginning, joint missions could be run from the Russian command center in Latakia, Syria. Turkish aviation would receive additional missions to bomb Islamic State targets, allowing the Syrian army to move forward from Palmyra until Raqqa, liberating central, eastern and north-eastern Syria.
Simultaneously with this, Bashar al-Assad will be persuaded by Russians to resume cooperation with Turkey in terms of the Treaty of Adana on 20 October 1998. This treaty allowed Turkey to pursue air strikes or capturing Kurds terrorists on a depth of 50 km inside Syria. Frequently, after committing attacks in Turkey, Kurdish terrorists refuge in northern Syria. Subsequently, air strikes of Turkish aviation would neutralize the force of combat groups of Arab-Kurdish YPG / SDF that is considered a rebel group by Bashar Al Assad, although it is supported by special forces of the four Western countries (USA, UK, France and Germany). Aviation and an anti ISIS coalition led by Americans would be required to give notice or to coordinate missions with the Russians and Turks.